Rescue Hero Prize Redemption Arcade Machine
This product comes from Highwaygames.com
---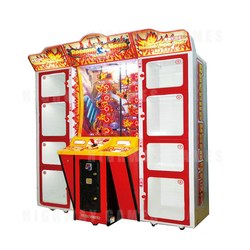 Rescue Hero Prize Redemption Arcade Machine is an exciting skill test machine with a fire emergency theme.

This bright eye-catching cabinet is a one player prize redemption that uses a simple and straight forward gameplay concept with a fire emergency theme! The cabinet displays the players score as they use the joystick to control a ball climbing up to 'rescue' a 'victim'.

The aim of the game is to reach the top without being burned by fire and, if successful, players will earn a corresponding amount of tickets!

Rescue Hero is an arcade machine with a small footprint, allowing it to fit in to a wider variety of locations. This game stands out on any floor and earns well in locations, such as Family Entertainment Centers, as it is suitable for young players and families of all ages.




Features:


Carry the Ball Up the Ladder While Avoiding Flames!
The Higher Players Go, The More They Can Win!
Carry The Ball To The Very Top To Win Prizes!

If you would like to purchase this machine, it is available through Arcade Game Sales.

---
The URL for this product is:
https://www.highwaygames.comhttps://www.highwaygames.com/arcade-machines/rescue-hero-prize-redemption-arcade-machine-17138/

Copyright © 1999 - 2022, Highwaygames.com All Rights