Robin Hood Arcade Machine
This product comes from Highwaygames.com
---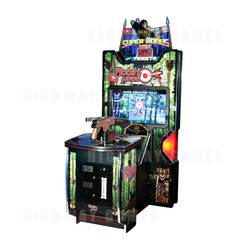 The Robin Hood Arcade Machine is a video redemption shooting game that uses a life life crossbow in place of a gun mechanism, and is a collaboration project between ICE and GameWax.

The game is themed after the famous English folklore hero, known for his highly-skilled archery, and puts players hand-eye coordination to the ultimate test as they try to points and earn tickets!

The aim of the game is for players to aim for the bulls eyes that appear, earning points for each target they hit to win tickets (a play-for-fun mode is also available).

In the first round players are trying to hit moving targets. Once a player has completed the first round, they have the option to risk half of their tickets, and show their sharpened skills, by entering the Super Bonus Round to win the ticket jackpot.

The Super Bonus can be rewarding, with hundreds upon hundreds of tickets to be won! In the finale, players will need to have their bow split an apple, with wind and distance causing issues, in order to win!

The cabinet is made using a durable laminated plywood cabinet, and features a crystal clear 32" horizontally mounted LCD screen.

The animated medieval theme makes this game fun and exciting for players of all ages. This vibrant cabinet will be immediately recognisable to players of all ages and players will be drawn in from all across the floor to test their skills using the realistic crossbow shooter!

---
The URL for this product is:
https://www.highwaygames.comhttps://www.highwaygames.com/arcade-machines/robin-hood-17182/

Copyright © 1999 - 2022, Highwaygames.com All Rights