Rock Ola Peacock CD Jukebox Model CD6C-PB
This product comes from Highwaygames.com
---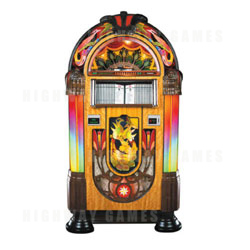 Rock Ola Peacock CD Jukebox Model CD6C-PB is a top of the line jukebox and includes all the classic features. Six bubble tubes, rotating colors in the side columns and the incredible "polarization of light" in which every feather in the Peacock plumes change color independently from the feather next to it. The beauty of the Peacock is equaled only by the quality of its sound.



Advanced SyberSonic System with 11 MHz Intel processor with 2MB of memory
360 Watts RMS (810 Watts Music Power) Dual Amplifier w/Surround Sound
dual equalizers/bridging options
5 Speaker, Dual 3-Way System for "live" performance sound
Remote Volume Control
100 CD capacity magazine
32 Character LCD Display with custom message capability
Menu Driven Programming (no codes to remember)
Self diagnostic utilities built in
CD player with Automatic Disc Mapping
Disc Changing + Self-Adjusting Laser
Full Audit and Popularity Totals and Multi Language Display
and the ability to connect optional external speakers, mikes or even external amplifiers!
---
The URL for this product is:
https://www.highwaygames.comhttps://www.highwaygames.com/arcade-machines/rock-ola-peacock-10846/

Copyright © 1999 - 2022, Highwaygames.com All Rights