Rollercoaster Tycoon Pinball (2002)
This product comes from Highwaygames.com
---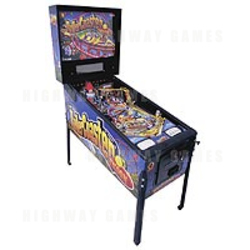 A pinball machine from Stern, with the theme of an amusement park, complete with rollercoasters and rides. The machine is based on the popular Rollercoaster Tycoon game from Infogrames, Inc. There are a total of 4 rollercoasters on the playfield, and the machine includes the roaring sounds of real rollercoasters.

To best understand how the pinball machine works, picture the ball on a ramp as you would a rider on a roller coaster. The playfield has 4 roller coasters, including The Flying Ghost, The Flying Turns, an inverted ramp coaster called The Chicago Loop, and the The Rocket, a coaster that blasts the ball almost to the playfield glass before sending it on a wild ride around the playfield.

Other rides and features include the Scrambled Eggs spinning ride, the pop bumper Bumper Cars, the Handyman drop target, the Maintenance Men stand-up target, the hysterical Dunk the Dummy side attraction, and an information kiosk that gives out random awards.

---
The URL for this product is:
https://www.highwaygames.comhttps://www.highwaygames.com/arcade-machines/rollercoaster-tycoon-8751/

Copyright © 1999 - 2022, Highwaygames.com All Rights