Rowe Laserstar CD100-D (100CD)
This product comes from Highwaygames.com
---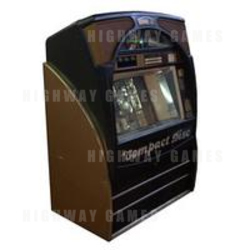 With its eye-catching design and attractive, no-hassle LED lighting this Rowe Laserstar CD100-D is perfect for the home, at parties or around the bar. The CD100-D is packed with all the popular features, user-friendly controls and low maintenance components that make this CD jukebox a welcome addition to any location.

Features :

Holds 100cds and displays 12 cds covers/booklets at once (2 stacks of 6).
High-quality 3-way speaker system (rich, full sound).
250 Watts per channel amplifier
High quality commercial-grade CD mechanism (Phillips).
Solid cabinet design for durability in high-use commercial applications.
Easy to clean, durable exterior surfaces.
In-built statistical record keeping, diagnostics and programming.
Attention-grabbing lighting, displays and signage.
Castors for easy moving too and from venues.
Easy to use.
---
The URL for this product is:
https://www.highwaygames.comhttps://www.highwaygames.com/arcade-machines/rowe-laserstar-cd100-d-5568/

Copyright © 1999 - 2022, Highwaygames.com All Rights