Rowe Laserstar SD51 (50CD)
This product comes from Highwaygames.com
---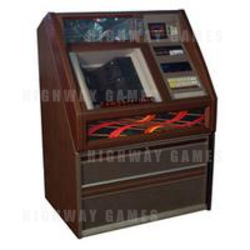 This exceptional, sleek style from the leader in jukebox design is now available in a CD unit. The SD51 is packed with all the popular features, user-friendly controls and low maintenance components that make this CD jukebox a welcome addition to any location. The eye-catching design and attractive, no-hassle LED lighting beckons to patrons, captures their interest and keeps them around longer.

Features :

holds 50 cds and displays 6 cds covers/booklets at once (2 stacks of 3).
High-quality 3-way speaker system (rich, full sound).
250 Watts per channel amplifier
High quality commercial-grade CD mechanism (Phillips).
Solid cabinet design for durability in high-use commercial applications.
Easy to clean, durable exterior surfaces.
In-built statistical record keeping, diagnostics and programming.
Attention-grabbing lighting, displays and signage.
Castors for easy moving too and from venues.
Easy to use.
machine is working
240 volts

Please note this machine is sold "as-is" without warranty. All known faults are listed below for reference;


no coin mech (machine set on freeplay)
minor cabinet scuff marks
no remote control
some light globes not working
gas lifters weak
rotating CD display noisy
display clouded (needs cleaning)
rear top fluro not working
---
The URL for this product is:
https://www.highwaygames.comhttps://www.highwaygames.com/arcade-machines/rowe-laserstar-sd51-5520/

Copyright © 1999 - 2022, Highwaygames.com All Rights