Seafood Paradise Arcade Machine
This product comes from Highwaygames.com
---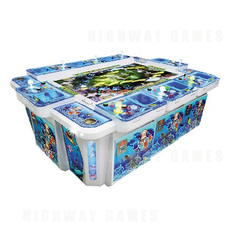 Seafood Paradise is a video redemption, fish hunter arcade game machine with an oceanic theme and is full of lots of colourful characters for players to enjoy.

Based on the marine fishing theme, it is a lottery-type game which includes 19 different types of fish. In the game there are three kinds of powerful special weapons! The aim of the game is to catch as many fish as possible for the most points, and players can earn high-score rewards for all their hard work!

Special weapons include:


Energy Laser — Slit fish in a straightforward direction
Power Grid — Last in the fields in a sustained 5 seconds
Invincible Bomb — Damage all fish in the field at once

There is also a special character weapon - the Spongebob Bomb! This awesome character feature cane give playes a x2~x10 bonus with a maximum of 1000x reward!

The cabinet features a LCD monitor with high definition graphics, the use of full-color high-definition scene dynamic production, and support online games. It also features a colourful and attractive cabinet design, brightly lit with LED lighting and catchy game music to keep players entertained.



Features:


Special weapons—Energy Laser, Power Grid and Invincible Bomb for FREE!(Special weapons will shoot automatically if player didn't launch in 5 minutes)
Lucky Fish — When killing the lucky fish, player will get a x2~x3 Bonus reward for any kind of fish. Maximum reward is 150 time Bets!
Convenient Operation: Auto Attack, Aim Attack makes the game operation more convenient and easy! You can hit any fish as you wish!
Timer Bomb: Shoot the Timer Bomb and cause undersea storm! The storm will attack all fish in the field. Fish killed by the storm belong to the player who launches the Timer Bomb.
Fish King: Fish surrounded by dolphin ring become Fish King. Killing the Fish King causes all same kind of fish in the field die and gets the scores.
---
The URL for this product is:
https://www.highwaygames.comhttps://www.highwaygames.com/arcade-machines/seafood-paradise-16857/

Copyright © 1999 - 2021, Highwaygames.com All Rights