Seafood Paradise 2 Plus 8 Player Arcade Machine
This product comes from Highwaygames.com
---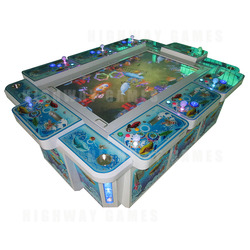 The Seafood Paradise 2 Plus (Advanced Version) 8 Player Arcade Machine is the combination of an upgraded version of the video redemption, fish hunter game (the Plus or Adavanced Version) housed in a Seafood Paradise 2 8 Player fish machine.

This Seafood Paradise 2 Plus comes with a number of fun features to keep player entertained and coming back for more chances to win! The main difference between this version and its predecessor is:


Puffer fish added: catch the light puffer fish to obtain an iron-bomb;
Greedy fish: increases their rate 200-600 times by eating fish under 10 times rate;
Whale values increased: red whale 100 to 300 times and gold whale 300 to 600 times;
Pikachu: shoot at Pikachu to trigger a chain lightning;
Increase in activation function: You can active the profitable scores by factory default setting using an activation code; same with marketing.

Seafood Paradise 2 Plus 8 Player Arcade Machine is the latest in the English version series for new game play and increased profits. This fun and exciting game will draw in players from all across the floor.



Features:


19 different types of fish for players to try and catch - the bigger the catch, the more points you earn!
Energy Cannon - fire for 30 seconds without any effect to your gun charge;
Circular Power Grid – emits a shock grid area and moves around the playfield shocking anything that touches the area;
Invincible Cannonball – bombs the full screen, affecting all visible fish;
Lucky Fish — When killing the lucky fish, player will get a x2~x3 Bonus reward for any kind of fish. Maximum reward is 150 time Bets!
Convenient Operation - Auto Attack, Aim Attack makes the game operation more convenient and easy! You can hit any fish as you wish!
Pikachu Chain Lightning - Creates a chain between many fish on the playfield and causing damage to a large number of fish.
Heat Flames - creates a flaming snake-like burst which causes damage to all the fish it touches as it shoots across the shoal.
Octopus Bomb - As the octopus' face goes red players can shoot it to cause an explosion.
Rolling Thunder - hit the octopus to bring a rolling thunder bomb and killing all common species of fish on the screen.
Frozen Stopwatch - will freeze all the fish within range and killing fish in this time can award double score.
---
The URL for this product is:
https://www.highwaygames.comhttps://www.highwaygames.com/arcade-machines/seafood-paradise-2-plus-8-player-arcade-machine-17142/

Copyright © 1999 - 2022, Highwaygames.com All Rights