Sega Touring Car Championship Twin
This product comes from Highwaygames.com
---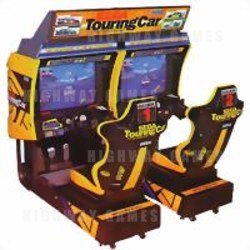 Sega Touring Car Championship is a car racing game with 4 cars and 3 tracks, automatic and manual transmissions, and alternate viewing perspectives.

Cars available are the Alpha Romeo 155 V6T, the AMG Mercedes C-Class, the Opel Calibra V6 and the Toyota Supra. The machine is linkable up to four units, with up to eight players able to race together. In the multi-player mode, only players who finish a course are able to compete in the next race. There are three different tracks which vary in difficulty. The Novice track is a high speed track modeled after a European racing circuit, the Intermediate course takes places on twisting mountain roads, and the Expert course takes place in the downtown area of a bustling European city.

The machine has a User Records feature which makes it possible to view player rankings and overall rankings. The machine also has an impressive speaker set-up, with two Gull box speakers in the head rest and one sub-woofer under the seat.

---
The URL for this product is:
https://www.highwaygames.comhttps://www.highwaygames.com/arcade-machines/sega-touring-car-6137/

Copyright © 1999 - 2022, Highwaygames.com All Rights