SNAP!
This product comes from Highwaygames.com
---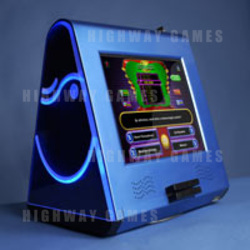 SNAP! is a coin or card operated sleek, compact, countertop terminal which operates either as a stand alone or networked unit and provides players with over 70 high earning games from the most popular game genre; Decks & Dice, Trivia, Strategy, Action, Love & Fortune, Sports and Puzzles.

SNAP! takes gaming machines into a new world of integrated network/Internet connected game playing. Through the use of the latest internet technology SNAP! players are able to participate in nationwide and worldwide competitions. In addition, these connections also allow the provider access to automatic uploads and unlimited advertising and sales promotion capabilities.

SNAP! helps the operator to maximise revenues by attracting the attention of a diverse audience and by repeating their experience. SNAP! robust design enables operators to earn revenue with virtually no management or administrative overheads.

Led by Nolan Bushnell, founder and former CEO of the legendary Atari Corporation, uWink has a library of over 100 short form games as well as a range of networked and stand-alone gaming units. uWink's unique entertainment software is available for licensing to almost any media including mobile phones, PDAs and interactive TV.



Touch screen technology
Wide angle LCD screen
High quality sound system
Swivel pedestal
---
The URL for this product is:
https://www.highwaygames.comhttps://www.highwaygames.com/arcade-machines/snap-8952/

Copyright © 1999 - 2022, Highwaygames.com All Rights