Snapshot
This product comes from Highwaygames.com
---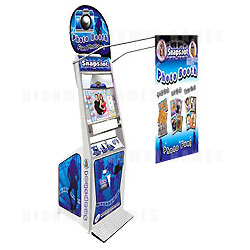 Snapshot is an updated version of LAI's photo booth "Star Blitz". It is a portable photo kiosk great for locations with limited space or for party rentals. Snapshot features new graphics, improved event hire software and an extra 'Sexy Mode' where you can pose alongside sexy models or hunky guys. The new 'Sexy Mode' can also be disabled for locations where this would be inappropriate.

The photo booth offers three different modes of play, which is controlled via the touch screen interface. Take basic ID photos in 'Quick Mode', or use 'Fun Mode' to customise and accessorise pictures by adding frames, graffiti or hand written messages. In 'Theme Mode' users can superimpose their face on a range of cartoon or sexy characters. Users can then print their photos and also download them to a mobile phone using Bluetooth to share with friends.

Snapshot comes with an industry-standard Mitsubishi dye-sublimation printer that prints high quality and durable 4" x 6" photos. Includes 600 print capacity and very low media costs (with no media tie-in).



Simple touch screen interface on a 17" touch-screen
With Renowned Carl Zeiss lens for sharp images
Coin, Note Acceptor & Swipe Card Ready
Huge capacity dye-sublimation printer holds 600pcs of 4"x6" glossy postcards
Includes 1 set of Mitsubishi ink
Includes 1 set of paper (4R - 600 prints / roll)
3 Modes of play:
Quick mode - Traditional photo strips in colour, sepia, black and white.
Fun mode - Photos customisation with stylish borders, hilarious stamps &
freehand graffiti.
Theme mode - Experience body morphing fun by superimposing face on a range of cartoon characters.

---
The URL for this product is:
https://www.highwaygames.comhttps://www.highwaygames.com/arcade-machines/snapshot-10712/

Copyright © 1999 - 2021, Highwaygames.com All Rights