Spacey Racers
This product comes from Highwaygames.com
---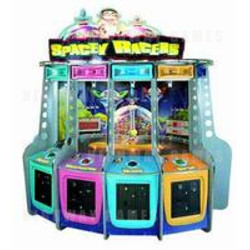 SPACEY RACERS is the brand new 1 - 4 player coin operated group race game that is setting a new standard for group games. The exciting and unique gameplay is premised on 4 colorful alien characters, MOONBEAM, MICRO, RETRO, and VAPOR who are set to race each other on bikes around one of the planets of outer space.

The gameplay is simple in that each player controls his "racer" by spinning the trackball (in any direction), the faster the player spins the trackball, the faster his character rides around the track. The first character to cross the finish line wins the race.....and the most tickets. Each race is called from the announcer who sits in the Tower perched high above the track!!!! One of the truly great features of the game is the "INSTANT REPLAY PHOTO FINISH." This occurs when there has been a very close race and the announcer must see an instant replay to decide on the winner. A photo finish is displayed on screen behind the track for all to see, and from there the winner is announced.

In addition to racing against other players, each player is also challenged to beat the bonus track record to win extra tickets!!!



Machine when crated: H 255 X W330 X D225(cms)


Voltage: Available to suit all Requirements.


1-4 players


Instant replay available for photo finishes


Sound Effects


Adjustable ticket payout


Adjustable bonus ticket payout


Mercy ticket option


Adjustable time of gameplay and out of this world sound effects!
---
The URL for this product is:
https://www.highwaygames.comhttps://www.highwaygames.com/arcade-machines/spacey-racers-6764/

Copyright © 1999 - 2022, Highwaygames.com All Rights