Street Basketball Jr
This product comes from Highwaygames.com
---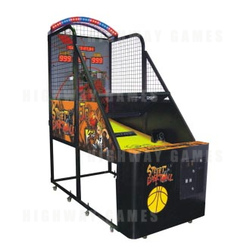 A basketball ticket redemption game with a fun hip-hop/street theme. It is a smaller version of "Street Basketball", and has been designed specifically for younger players.

This version includes all the same great features and gameplay as the larger version. A total of four stages are available. After two stages, the basket starts to move left and right, thus increasing difficulty and asking more of the players' hand to eye co-ordination.

The game can be linked with up to 15 machines for multiplayer action. Includes original hip hop music, played through a great sound system with sub woofer.



One or Two Player game, and Links up to 15 machines at no additional cost
Ticket Redemption option included
Compact size with solid black metal construction
Wire sides, top and lower sections
4 stages of play
Side to side basket movement in various phases
High Score Play
Great sound system with Sub Woofer
Steel Chain Basket Net
Many Operator Adjustments
---
The URL for this product is:
https://www.highwaygames.comhttps://www.highwaygames.com/arcade-machines/street-basketball-11012/

Copyright © 1999 - 2022, Highwaygames.com All Rights