Subway Surfers Arcade Machine
This product comes from Highwaygames.com
---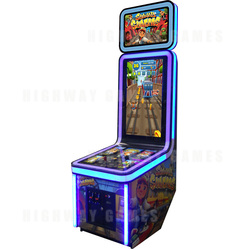 Subway Surfers Arcade Machine is based on the hugely popular mobile app game and can be used as either a ticket redemption machine or a straight video game machine.

As a continually running obstacle game, the aim is very simple: collect as many coins as you can while avoiding all the things in your way and the trhings trying to catch you.

In this phenomenonally popular games players can choose from 30 different surfers to play and have a choice of 17 differnt subways to surf, including: New York, London, Tokyo, Paris, Miami, Moscow, Los Angeles, and more!

Once a character and subway have been selected players will be thrown into the deep end - they must start surfing, avoiding the trains, barriers and obstacles in their way, as well as avoiding the inspector and his dog trying to catch you, as players collect coins and race against time.

To help players there are all sorts of power ups you can grab, including: the Hoverboard, Jetpack, Coin Magnet, Power Jumper, and Super Sneakers!

There also added features like the BONUS feature, in which players must collect all the letters of the word BONUS from the stage to win an extra 1000 coins to their score! There is also a Continue Play feature that will allow players to continue the game from where they failed without losing anything, like their collected BONUS letters, coins, etc.

The control uses a 4 way joystick that goes left, right, up (Jump)and down (Roll).

Subway Surfers is an easy to understand game that is fun and challenging for players of all skill levels.


Features:


The most downloaded Android game ever!
135 million active monthly users!
2nd most popular game in the world!
Over 425 million downloads!
---
The URL for this product is:
https://www.highwaygames.comhttps://www.highwaygames.com/arcade-machines/subway-surfers-arcade-machine-17032/

Copyright © 1999 - 2021, Highwaygames.com All Rights