Taiko no Tatsujin International Arcade Machine
This product comes from Highwaygames.com
---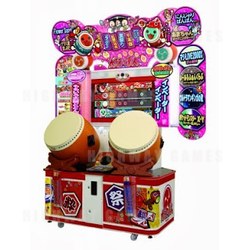 Taiko no Tatsujin International Arcade Machine is the first arcade machine from the music and rhythm series since the Asian versions to be distributed outside Japan, though it still operates in Japanese language.

After the successful result of a petition for the distribution of an updated Taiko machine outside Japan, several units of the third-generation cabinets were finally shipped to Taiwan in late January 2014, featuring the most current firmware used in Japan.

It's considered as a separate game, so play records are not interchangeable between JP and this one. Online features such as the Donder Hiroba service and the Rewards Shop along with it, DonChare and the Ranking Dojo are also not available, as they rely on access to the network.

Banapassport compatibility is still there, and player data is tracked and stored in a separate server from the Japanese ones. As such, only the Don Points and Title unlocks (the unlockable stuff is there, but the titles cannot be set without the Donder Hiroba) are available.

The Don Point unlocking trail is much, much longer than the JP Momoiro, giving out many costumes and Taiko sounds from the Rewards Shop which would otherwise be unavailable. As of April 2014, DonChare songs seem to be added on time too, after the one-month challenge period for each song is over.

Due to long-standing copyright issues, many songs, especially licensed ones from J-Pop and Anime, are not in this particular build, although the first online update on March 27, 2014 brought back a number of dropped licensed titles. This version has a total of 261 songs.

---
The URL for this product is:
https://www.highwaygames.comhttps://www.highwaygames.com/arcade-machines/taiko-no-tatsujin-international-arcade-machine-17056/

Copyright © 1999 - 2022, Highwaygames.com All Rights