Taiko no Tatsujin Murasaki International Version Arcade Machine
This product comes from Highwaygames.com
---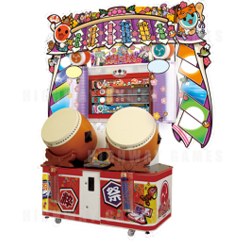 Taiko no Tatsujin Murasaki International Version Arcade Machine is a music and rhythm arcade machine from Bandai Namco Games Taiko series which uses drumsticks and big drum to play the game.

Asian version HD Taiko firmware released on April 16th, 2015, one month after Japanese players got their purple Taiko passion. Most of everything from Kimidori Version carries over to Murasaki, with another extension to the Don Point unlockable path corresponding to JP Murasaki's, and the interface tweaks along with it.

Most of the songs, if not all of the debut songs from JP Murasaki safely made it into Asian international Murasaki version, with the addition of some licensed songs from Kimidori.

Symbols will appear on screen, moving horizontally along a timeline to show the player what to hit and when to hit it. Blue symbols indicate that the drum should be hit on the rim, whiel red symbols indicate that the face of the drum should be hit.

The drum can be hit on the left and/or right side and the symbols can be either large or small. Large symbols indicate that the drum should be struck on both sides simultaneously, and small symbols indicate that the drum should be hit on either side. A large blue symbol thus means that the left and right rim should be hit at the same time.

Successful play builds up a life meter, and if the meter is past a certain point by the end of the song, the song is passed.

This cute and fun game is also very challenging, making it suitable for players of all ages who enjoy drumming! It is well-suited to medium or large locations as the machine and players will need plenty of room.

---
The URL for this product is:
https://www.highwaygames.comhttps://www.highwaygames.com/arcade-machines/taiko-no-tatsujin-murasaki-international-version-arcade-machine-17060/

Copyright © 1999 - 2021, Highwaygames.com All Rights