Teenage Mutant Ninja Turtles TMNT Pinball Machine
This product comes from Highwaygames.com
---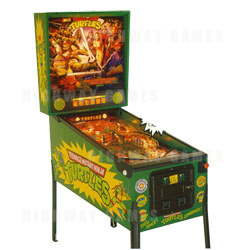 This Teenage Mutant Ninja Turtles Pinball Machine is a must-have for any TMNT Fan. A 1991 pinball from popular manufacturer Data East, this classic pinball machine is based on the popular cartoon and live-action movie of the same name, and features all your favourite characters including Leonardo, Michelangelo, Donatello, Raphael and Master Splinter.

The playfield design captures the fun of the cartoon, featuring a spinning playfield pizza and the industry's first ever disappearing, underground pinball shot!

The Teenage Mutant Ninja Turtle Pinball is definite quality, featuring Data East's trademark dot matrix display.

---
The URL for this product is:
https://www.highwaygames.comhttps://www.highwaygames.com/arcade-machines/teenage-mutant-ninja-turtles-pinball-machine-7900/

Copyright © 1999 - 2022, Highwaygames.com All Rights