Terminator Salvation Arcade Shooter with Fixed Gun Cabinet
This product comes from Highwaygames.com
---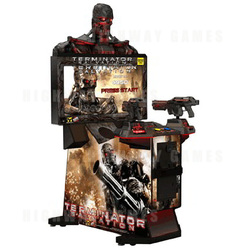 This Terminator Salvation machine by Play Mechanix is a two player shooter style arcade game with a fixed gun cabinet. Based on the hit movie from one of the most popular sci-fi franchises, the cabinet displays detailed graphic designs based off the movie, and a replica T-600 robot marquee topper complete with glowing red eyes. The arcade shooter features a number of aesthetic features for fans of the franchise to enjoy, plus recoil weapons with clip action reload for more realistic gameplay, multiple game levels and power ups.

Players are thrown onto the front line to face hoard after hoard of T-600 robots determined to terminate them. Players can expand their arsenal by picking up weapons, explore different levels of the games, power up their characters as the challenges increase in frequency and difficulty.

If you would like to see how the game plays, here's a video sourced from knowone6 on Youtube:





42" LCD screen for high definition graphics.
T-600 robot replica marquee topper, complete with glowing red eyes.
Glowing neon rifle holders.
Recoil weapons with clip action reload.
Multiple Game Levels and power ups.
---
The URL for this product is:
https://www.highwaygames.comhttps://www.highwaygames.com/arcade-machines/terminator-salvation-42-fixed-gun-cabinet-play-mechanix-11794/

Copyright © 1999 - 2022, Highwaygames.com All Rights