Grand Champion
This product comes from Highwaygames.com
---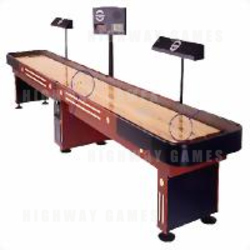 Based on the championship line of shuffleboards comes the The Grand Champion. This innovative table now includes actual voice sounds. The playfield is made from solid Canadian maple with a Polymer finish.

The Polymer finish never needs resurfacing and is the same finish that is used on tables for professional tournaments. The table also has an electronic scoreboard.

If the board is to be used for commercial use, the playfield can also be equipped with a pingate, which is a set a metal pins that when activated stand up in the middle of the playfield to prevent freeplay.



Available in any stain
Maple inlays on sidewalls & legs
Polymer finish
Brass or silver hardware
Solid maple cradles
Custom woods available
State-of-the-art electronics
Pingate
Lights
Patented handicap scoring
---
The URL for this product is:
https://www.highwaygames.comhttps://www.highwaygames.com/arcade-machines/the-grand-champion-6931/

Copyright © 1999 - 2020, Highwaygames.com All Rights