The Hobbit Limited Edition Pinball Machine
This product comes from Highwaygames.com
---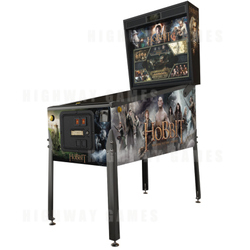 The Hobbit Limited Edition Pinball Machine embodies the many cool and unique elements from the popular film trilogy, The Hobbit.

The "special-release" Hobbit Limited Edition Pinball Machine will come with a hand-drawn playfield, full-color cabinet and backbox artwork, special playfield toys and much more!

The Hobbit will be equipped with a powerful Digital Stereo Sound System which booms out the original soundtrack music scores, speech and special effects!

The cabinet comes with a special Audio Headphone / Ear Bud Jack with Digital Volume Control for silent play, plus a rear Component Audio Jack for connections to external sound amplifiers.

The Hobbit Limited Edition Pinball Machine will be made in limited numbers and each machine will have a special numbered plaque under the playfield glass to identify it.

This bright LED lit machine, with licensed cabinet artwork, stands out in any location and will be instantly recognised by the majority of players.



Features:


27" HD LCD Display features full color custom animation, movie clips, scoring, attract mode, artwork and more
Awesome Multicolored RGB LED Playfield Lighting
Super-White LED General Illumination Playfield Lights
Hobbit-Inspired Body Armor, Legs, Backglass + Topper
Seaside Bronze Powder Coated Hobbit Body Armor
Powerful Seven Speaker 2.1 Digital Audio Sound System
Special Non-Reflective "InvisiGlass"
Color Digitally Printed Solid Wood Cabinet Playfield, along with JJP's Premium Playfield Clearcoat Technology
Front Headphone Jack + Component Audio Jack In Rear
Special Numbered Plaque and Certificate of Authenticity
---
The URL for this product is:
https://www.highwaygames.comhttps://www.highwaygames.com/arcade-machines/the-hobbit-limited-edition-pinball-machine-17303/

Copyright © 1999 - 2021, Highwaygames.com All Rights