The Lord of the Rings - The Return of the King AWP
This product comes from Highwaygames.com
---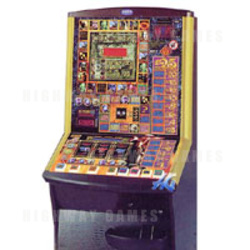 The Lord of the Rings - The Return of the King AWP requires players to light all three characters to access the super board, and when landed on, Sauron's eye extinguishes all three characters (Frodo, Sam and Gollum) and play reverts to the feature board.

Aragorn's 'Stoppa' gives a skill stop on the super board and Legolas's 'Shoot' gives a shot on the cash shots panel. When players light the letters of the LOTR Return of the King legend, they can take a 'shot above' if cash, feature or meter is collected. Cash squares add that value into the meter, while the character lights on the hidden features panel. When a pair of characters is lit in the hidden features panel, the associated feature lights, and is available to collect.

The Orc square leads to a variety of outcomes - players may receive a reward, or lose their way (Frodo, Sam or Gollom will then be extinguished, returning play to the feature board.)

By lighting three rings, players receive an extra life. If players land on the add feature, a feature trail will be added and if players land on add cash, a cash trail will be added.

---
The URL for this product is:
https://www.highwaygames.comhttps://www.highwaygames.com/arcade-machines/the-lord-the-8986/

Copyright © 1999 - 2021, Highwaygames.com All Rights