The Redeem Machine - Self-Service Kiosk Redemption Machine
This product comes from Highwaygames.com
---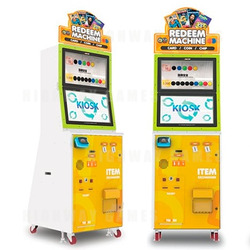 The Redeem Machine by Andamiro is a high-tech, interactive self-service kiosk that accepts, validates and counts collectible redemption cards, coins and chips. It supports a varity of redemption games including Andamiro's own SpongeBob Pineapple Arcade, Despicable Me Jelly Lab and WWE Superstar Rumble, as well as Bandai Namco's DC Superheroes.

The Redeem Machine's dual 23" screens create an elegant user experience for the player. Customers can follow the prompts on the touch-enabled lower monitor while the upper monitor displays the inserted items and the transaction's progress. Instructional graphics guide the player through the transaction, however the Redeem machine is very straightforward to make the experience easy.

The state-of-the-art Redeem Machine solution will give the operator greater peace of mind by protecting assets and improving the customer experience. It centrally secures valuable redemption currency, prevents theft, defeats counterfeiting and reduces labor costs. It allows the customer to "skip the line" at the redemption counter to exchange items for tickets, which are transferred to their player account immediately.

The Redeem Machine can be activated to accept and validate barcoded or RFID cards; it cannot operate with blank cards. Barcodes must also be present on souvenir coins – like Andamiro's NFLPA pro football player heads and coins for the company's forthcoming Ticket Man device. Chips are validated and redeemed according to color (blue, green, orange and red); however, busy chip locations can disable the color recognition feature to speed up service.




Features:

High-capacity solid-state SSD supports expansion capabilities for additional game cards and items.
Recognises bonus sets and awards "e-tickets" and points accordingly.
Compatible with popular swipe-card cashless systems, including Embed, Intercard and Sacoa.
Ships with dual ticket dispensers for traditional "ticket" venues.
Helps prevent card fraud and theft.
Reads barcoded and RFID cards.
Securely stores high-value trade-ins.
Self-service operation eliminates the need for staff intervention, reducing bottlenecks at the redemption centre.
Dual screens (23 inch) enable user-friendly experience.
---
The URL for this product is:
https://www.highwaygames.comhttps://www.highwaygames.com/arcade-machines/the-redeem-machine-self-service-kiosk-redemption-machine-17831/

Copyright © 1999 - 2022, Highwaygames.com All Rights