The Three Stooges Arcade Machine
This product comes from Highwaygames.com
---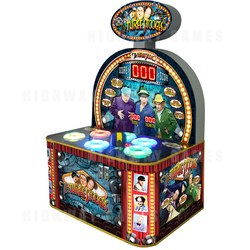 The Three Stooges Arcade Machine is a ticket redemption whacking game in which players must use their hand-eye coordination to quickly boink the heads of the famous three stooges as they pop up!

Head-bonking reaches new heights with the most famous comedy trio of all time! Hear Moe, Larry and Curly yell out all of their famous lines as they're whacked on the head with the soft mallet (safety first, kids!).

The game is a ticket redemption machine, and the faster the playwer whacks the stooges, the higher their score and the more tickets they will earn! Test you reflexes against the pop up figurines of the most famous slapstick comedians in history.

The cabient features six hidey holes, all lit with colour changing LED lights, and also features The Three Stooges themed artwork. The artwork includes the stooges themselves, plus all their famous lines!

Players of all ages will enjoy knocking Larry, Moe, and Curly about in this fun and exciting game!



---
The URL for this product is:
https://www.highwaygames.comhttps://www.highwaygames.com/arcade-machines/three-stooges-arcade-machine-17239/

Copyright © 1999 - 2021, Highwaygames.com All Rights