Toss Up Arcade Machine
This product comes from Highwaygames.com
---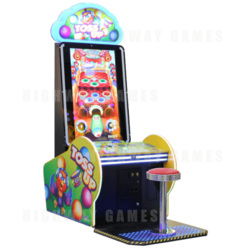 The Toss Up Arcade Machine is a single player, video redemption game. It comes with LED lights, great sounds and vibrant colours to attract people.

Toss-Up is where players test their skill by tossing a wide range of colored balls through the rings to win tickets. The more points you score, the more tickets you win.


Specifications:

Single player, video redemption
Swipe the trackball to control the direction of your toss
Bonus ball feature to win more tickets

Play Instruction:

Toss balls to top level holes to win the most points
Toss balls into the Rainbow Tunnel to win lots of tickets
Bonus Ball feature wins more tickets/points.

Includes:

1 x Toss Up Arcade Machine
---
The URL for this product is:
https://www.highwaygames.comhttps://www.highwaygames.com/arcade-machines/toss-arcade-machine-17156/

Copyright © 1999 - 2022, Highwaygames.com All Rights