Tower of Tickets Arcade Machine
This product comes from Highwaygames.com
---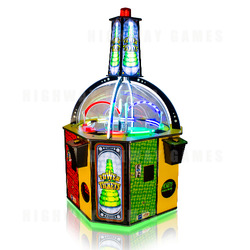 The Tower of Tickets Arcade Machine is a ticket redemption game that is an easy to understand gam that is fun for players of all ages.

This 100% skill-based, 4-player game is simple to play. Players push the button to engage the sweeping arm in attempt to try to knock off the tower of tickets on the revolving playfield.

Players must use their reflex, timing and hand-eye coordination to time it just right to win the novel tower of ticket bundles worth various ticket values.

The Tower of Tickets arcade machine features a brightly lit and coloured cabinet, which features a small footprint and large and bright marquee, allowing this machine to fit into a wide variety of locations and stand out in any location.

This game is a great addition to any game room, players of all ages will love the thrill of winning tickers, especially when the winner beacon goes off celebrating with the winner.

---
The URL for this product is:
https://www.highwaygames.comhttps://www.highwaygames.com/arcade-machines/tower-tickets-arcade-machine-17258/

Copyright © 1999 - 2022, Highwaygames.com All Rights