TsuMo (Tsunami Motion)
This product comes from Highwaygames.com
---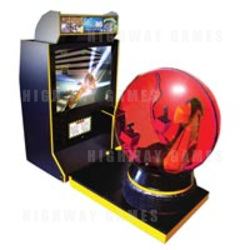 A large motion based simulator for use with a variety of video games. The simulator contains a motion base and display cabinet. Its Software system supports both interactive games and passive motion rides. This fully interactive, coin-operated motion simulator with a full six degrees of motion immerses players into the game with real time simulation of motion, stunning graphics and authentic audio.

Currently available in Deluxe and Junior models, both models are displayed in the screenshots section along with a assortment of software titles available for the unit.



Available in 50" or 39" display.
Acrylic ball around motion base available in blue or red.
Surround sound.
PC Based arcade machine.
Full 6 degree of freedom motion
Powered by electric motors.
Player-selectable multi-game menu puts control into the hands of the player.
Player-selectable multi-game menu.
Operators choose which titles will be displayed in the multi-game selection screen.
New games and motion rides can be purchased and uploaded onto Tsumo via CD-Rom upgrades.
Customizable content controls maximize earnings for your location.
---
The URL for this product is:
https://www.highwaygames.comhttps://www.highwaygames.com/arcade-machines/tsumo-tsunami-motion-8117/

Copyright © 1999 - 2022, Highwaygames.com All Rights