Ultra Pin
This product comes from Highwaygames.com
---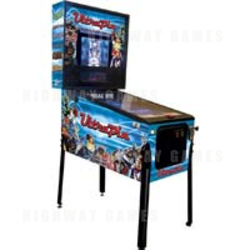 Ultra Pin features a new wave in pinball technology called "Digital Pinball", with the machine using digital playfields. Ultra Pin contains 12 popular pinballs from Williams and Bally, all in a standard sized pinball machine.

Ultra Pin won the 2006 AMOA Innovators Award. The tables available are Attack from Mars, Medieval Madness, F-14 Tomcat, Strikes and Spares, Sorcerer, Funhouse, Firepower, Eight Ball Champ, Fathom, Pinbot, Black Knight 2000, and Xenon.

Being digital, additional tables will be released in the future and can be easily installed via upgrade packs. To keep with its digital theme it features a 32" Wide Screen 16:9 Plasma Monitor for the table display. Also instead of the normal Dot Matrix Display, you have a color LCD panel.

To make it feel & sound like an original machine it has a Force Feedback System which also allows bumping and tilting, as well as a digital amplifier for crystal clear sound. A big selling point is the fact that the machine is not a normal pinball, which means that there are no moving parts to break, and no globes or rubbers to replace.

---
The URL for this product is:
https://www.highwaygames.comhttps://www.highwaygames.com/arcade-machines/ultra-pin-9183/

Copyright © 1999 - 2022, Highwaygames.com All Rights