Vewlix L
This product comes from Highwaygames.com
---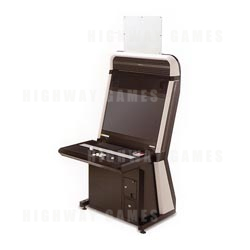 Vewlix L is an arcade cabinet manufactured by Taito. Vewlix L retains the performance and design of the Vewlix F, but certain parts have been simplified to reduce costs and the machine is also lighter.

From the manufacturer the Vewlix L cabinet does not come equipped with a power supply (available as an optional extra). It also does not come with a back light for the play instructions, no LED PCB for lighting inside the title panel, and it also has a different monitor.

The cabinet has a 32 inch widescreen LCD monitor with a resolution of 1360x768. Traditional 4:3 images can also be viewed, and the screen can also be rotated.

---
The URL for this product is:
https://www.highwaygames.comhttps://www.highwaygames.com/arcade-machines/vewlix-arcade-cabinet-9792/

Copyright © 1999 - 2021, Highwaygames.com All Rights