Video Redemption System II (VRS II)
This product comes from Highwaygames.com
---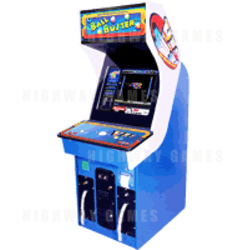 The VRS2 allows the operator to keep the cabinet with new and even different type of game with Interchangeable control panels and software. Allowing for easy conversion from a trackball based game to a joystick, multi-button, gun, or even steering wheel based game.

The VRS2 Utilizes PC based technologies with a Pentium level computer and 16MB of Ram. The action is display of a 27" high resolution monitor and features 16 bit stereo sound.

The idea beind the VRS II is that players can win tickets and even instant prizes such as a sodas or even a TV with the Insta-Prize patented system. The VRS II also features the ability to link up two or more VRS II cabinets by purchasing our patented Progressive Bonus Display. Linking up two or more games is a great way to increase your overall earnings as players try to win the ever growing progressive bonus!



Ticket's dispenser(s)
UL, CE & FCC listing
Coupon Printer
CD Rom game updates
Control panel updates
---
The URL for this product is:
https://www.highwaygames.comhttps://www.highwaygames.com/arcade-machines/video-redemption-system-8139/

Copyright © 1999 - 2021, Highwaygames.com All Rights