Virtua Athletics
This product comes from Highwaygames.com
---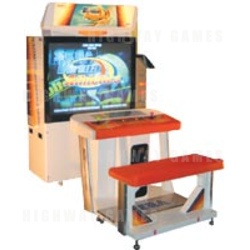 Virtua Athletics is an Olympic events-style video game that has all the realism and excitement of a world-wide tournament, but without the sweat and pain. The game is powered by the NAOMI system with realistic movements during the sporting events.

Players select one of the individual Athletes, each with different abilities and strengths, and then compete in 6 different events for the highest total score. Pass the qualification level for each event to go on to the next event.

The game features a choice of 6 Track and Field events, including the 100m Dash, Long Jump, Shot Put, High Jump, 110m Hurdles and the Javelin. The game is controlled using a simple joystick and three button operation.



Available in the Naomi Universal upright cabinet and the new Naomi 39" sit down Megalo cabinet.
---
The URL for this product is:
https://www.highwaygames.comhttps://www.highwaygames.com/arcade-machines/virtua-athletics-8631/

Copyright © 1999 - 2021, Highwaygames.com All Rights