Virtua Cop 2
This product comes from Highwaygames.com
---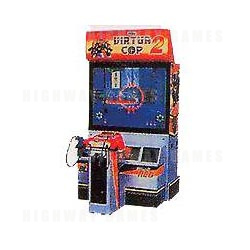 The Virtua Cops continue their crime fighting ways in this gun shooting sequel. There are now 3 cops the player can choose from, and 3 full stages.

Gameplay is similar to the first, however the player is able to choose their path halfway through each level. This gives the player more interaction with the story and multiple routes to make it to the final boss.

You can beat the stages in any order, and each stage has a boss at the end. After you beat all three bosses from the stages, you will take on the final boss.

---
The URL for this product is:
https://www.highwaygames.comhttps://www.highwaygames.com/arcade-machines/virtua-cop-6419/

Copyright © 1999 - 2021, Highwaygames.com All Rights