Virtua Cop 3 SD
This product comes from Highwaygames.com
---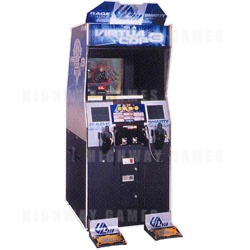 Virtua Cop 3 features a new foot pedal system which invokes E.S mode (Exceeding Sense Mode). When this mode is engaged everything occurs in slow motion. This mode allows you to fight gun battles in super slow motion, allowing you to recognise the bullets fired by enemies and precisely deal with the situations of the battle.

When the E.S. Mode is engaged the value of the E.S. Gauge will decrease. Once the E.S Gauge goes to zero you will no longer be able to use the E.S Mode. Players must shoot down the enemies to build up the value of the E.S.Gauge.

As a extension of the new foot pedal system to the virtua world is E.S. ATTACK (Exceeding Sense Attack). This is a mode that will start automatically at a specific scene and requires you to attack the most effective target within a specific time. You must act accurately and swiftly to succeed, and players can continue to shoot until the gauge goes to zero.

Players will also find that some conventional weapons are not enough to stop the advancing thugs, in such a case players can activate the Weapon Change System. You must attack using the most suitable weapons depending on the battle conditions, and you are able to switch weapons by pressing the 'Weapon Change Button'. By pressing the button, players can switch to and from Special Weapon & Original Weapon. Special Weapons will be lost when players shoot civilians by mistake or when attacked by enemies. Also there is a limit of bullets with Special Weapons so use them wisely.

The Main characters are: Janet, a new member since Virtua Cop 2, Smarty (Jimmy Cools) and Rage (Mike Hardy). Virtua city is divided into 3 hot spots. Each hot spot contains a mission, each of which vary in difficulty.
Simple Mission:
A medicine-manufacturing factory has been broken into at midnight by an armed and dangerous gang. The mission of Virtua cops is to bring the laboratory back under control and to capture the criminals. Using plastic bombs Virtua Cops will break into the inside of the building from the observation halls on the 72nd floor.
Normal Mission:
At midday, the surveillance camera spots something unusual in the VC BANK. A collaboration strategy with VCPD is scheduled. The missions of Virtua Cops is to capture the main criminal.
Hard Mission:
The largest Military Base is in trouble with communication. Sneak into the base from the underground waterway and report the situation with utmost secrecy.

---
The URL for this product is:
https://www.highwaygames.comhttps://www.highwaygames.com/arcade-machines/virtua-cop-9580/

Copyright © 1999 - 2021, Highwaygames.com All Rights