Virtua Tennis 3 DX (US Make)
This product comes from Highwaygames.com
---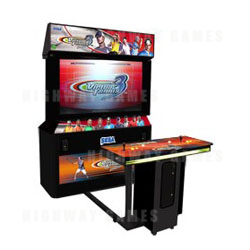 Virtua Tennis 3 is the third installment in Sega's smash hit tennis series. The deluxe version features a 62" HD monitor.

Players can customise their characters with the virtual cash you win in tournaments, or play as an internationally ranked tennis player. Either travel the world to challenge your favorite tennis players or be one of them.

Players need to make it through five rounds to reach the championship finals and can store their personal data, games records, world ranking and number of medals on an IC Smart Card. Players can participate in the world ranking system with all their details stored safely on this card.

Sega has powered Virtua Tennis 3 with Lindbergh using photo realistic graphics and imitating perfect player movement.

Three different play modes:
•World Tour - where players travel the globe using a custom-created character to win cash
•Exhibition - where players can take control of a pro tennis all-star for one-off matches
•Tournament - which puts players in knockout sessions where only the best will see victory

Virtua Tennis 3 gives the options of four different court surfaces to play on, including: hard court, clay, grass, and carpet.

Professional players include: Andy Roddick, Maria Sharapova, Lleyton Hewitt, Lindsay Davenport, Tim Henman, Juan Carlos Ferrero, Tommy Haas, Sebastien Grosjean, David Nalbandian, Daniela Hantuchova, Amelie Mauresmo, Nicole Vaidisova

Virtua Tennis 3 is known as Power Smash 3 in Japan.

---
The URL for this product is:
https://www.highwaygames.comhttps://www.highwaygames.com/arcade-machines/virtua-tennis-us-9513/

Copyright © 1999 - 2021, Highwaygames.com All Rights