World Club Champion Football (WCCF) 2005-2006
This product comes from Highwaygames.com
---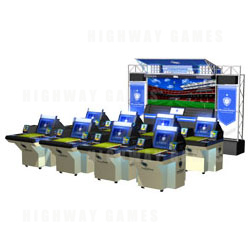 WCCF is a card based arcade football game. The player collects and trades cards, and must build and manage their team to win simulated matches. The 05/06 version contains 8 extra European clubs and 206 new players, bringing the total number of teams to 21.

Your goal as the club team manager is to build your team and win titles during your contract and lead your club team to be the best team in Europe.

To play, you must first buy a starter pack, and insert the Club Card into the machine. The player then signs a Manager Contract and creates a new team. You can use the Team Management mode and enter a practice session which will improve the teams strong points and reduce its weak points.

---
The URL for this product is:
https://www.highwaygames.comhttps://www.highwaygames.com/arcade-machines/world-club-champion-9539/

Copyright © 1999 - 2021, Highwaygames.com All Rights