20th Century Fox Launched Viral Site Featuring X-Men Themed Arcade Games
This article comes from Highwaygames.com
---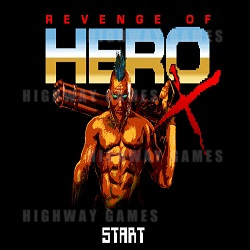 To celebrate the upcoming release of X-Men: Apocalypse, 20th Century Fox released a fun new viral site on May 3 featuring three new X-Men/mutant themed 80s style arcade games.

SpacePortArcade.com, the name of the site launched by Fox, offers three playable in-world X-Men arcade games, titled "Mutant Conquest," "Mutant All-Stars Track & Field" and "Revenge of Hero X."

The games make what could be interpreted as X-Men references, for example in Mutant All-StarsTrack & Field there is a large light blue male character that is reminiscent of characters like Iceman or Colossus. There is also a fan theory doing the rounds of references to Cable in Revenge of Hero X.

The games are quick and fun, plus easy to understand though still quite challenging. This is a really interesting take on online and viral marketing, and appears to already be working in the favour of the studios in terms of building hype and engaging with the market audience.

The movie focuses on the awakening of an immortal and invincible mutant, Apocalypse, also known to be the first mutant from the Marvel/X-men universe. Apocalypse is on a mission to cleanse the world and it is up to the Professor Xavier and his students to stop him, and save humanity.

X-Men: Apocalypse will be released on May 27, 2016, and stars Oscar Isaac as Apocalypse, James McAvoy as Charles Xaver, Jennifer Lawrence as Mystique, Nicholas Hoult as Beast, Rose Byrne as Moira MacTaggert, Michael Fassbender as Magneto, and Lucas Till as Havok, plus newcomers Alexandra Shipp as Storm, Sophie Turner as Jean Grey, Ben Hardy as Angel, Tye Sheridan as Cyclops, Olivia Munn as Psylocke and Lana Condor as Jubilee.

To play the games, simply visit the site here.

---
The URL for this article is:
https://www.highwaygames.comhttps://www.highwaygames.com/arcade-news/20th-century-fox-launched-viral-site-featuring-x-men-themed-arcade-games-3657/

Copyright © 1999 - 2022, Highwaygames.com All Rights