Bay Tek Launch Flappy Bird Merchandiser Arcade Machine
This article comes from Highwaygames.com
---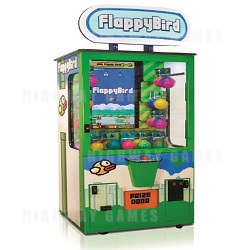 Bay Tek are set to launch their prize redemption version of the popular mobile game, the Flappy Bird Merchandiser Arcade Machine, which was also released as a ticket version late last year.

The prize merchandiser version originally made its debut at the Amusement Expo in March with a prototype, and has also been seen at the Roller Skating Convention and Bowl Expo this year.

The cabinet has been designed as a single-tiered, low-end merchandiser with a crane machine style, and is suited to a variety of business models. It fits perfectly into any number of vestibules, street locations, game rooms, or family entertainment centers, and directly targets the younger audience that fell in love with the addictive mobile app.

Mark Lenske, Midwest Account Manager for Bay Tek, said, "It is not too often that Bay Tek Games has created a merchandiser, but I'm pleased to say that we have done just that. This merchandiser is not only skill-based, but it is creating revenues that most owners will be thrilled with. Yes, the owners will enjoy it, but the players will recognize the licensed artwork and they will be drawn to the bright 32-inch monitor, making this a must-have piece for any location."

Game play will be familiar to anyone who has played the mobile app or ticket redemption versions of Flappy Bird. Simply press the large red button on the control panel to skilfully manoeuvre the bird through the pipes and obstacles – if you pass enough pipes, players win a prize! While hitting one of the pipes or the ground will be game over!

For more information, contact a Bay Tek distributor.

---
The URL for this article is:
https://www.highwaygames.comhttps://www.highwaygames.com/arcade-news/bay-tek-launch-flappy-bird-merchandiser-3477/

Copyright © 1999 - 2022, Highwaygames.com All Rights