Best of Show Awards (BOSA) 2015 by BMI Gaming and The Stinger Report
This article comes from Highwaygames.com
---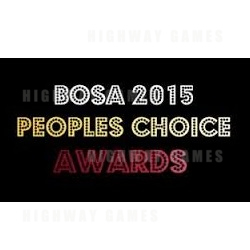 The BOSA or Best of Show Awards, created by BMI Gaming and The Stinger Report, has released it's 2015 winners. It as an industry recognition of high quality arcade and amusement machines seen over the year. BOSA began back in 2011 and has been popular within the industry as a token of acknowledgement and accomplishment.

"The criteria used to judge the Best Of Show Arcade Machine Awards are based solely on qualified product lines that BMI Worldwide is a recognized distributor of (or firms new to the industry), and shown at the annual IAAPA Attractions Expo, in which all products that are elected for nomination for a BOSA Award are reviewed and voted upon by our panel of (8) judges this year, with all nominees assigned final scores by our judges based on these five areas of importance :


Game Playability and Enjoyment;
Game Originality and Uniqueness;
Market Relevance;
Earning Potential; and
Game Pricing.

The Annual BOSA Awards for 2015 will be issued in four game categories : Video Arcade Games, Redemption Games,
Video Redemption (Videmption) Games, and new for the BOSA Awards is the introduction of Motion Simulators Rides
and Interactive Theaters / Rides to the awards categories, which covers amusements that have a motion platform or
interactive ride component."

The winners are as follows.

Category one: Video Arcade Games
GOLD - Jurassic Park Arcade Motion Deluxe (Raw Thrills)
SILVER - Sega Showdown Special Attraction (Sega)
BRONZE - Pump It Up PRIME 2015 (Andamiro)
HONORABLE MENTION - Armed Resistance DLX (UNIS)


Category Two: Videmption Arcade Games
GOLD - Fishbowl Frenzy (TeamPlay)
SILVER - Kung Fu Panda Arcade: Dojo Mojo
BRONZE - Flying Tickets Arcade (Adrenaline Amusements)
HONORABLE MENTION - Shooting Mania Arcade (LAI Games)


Category Three: Redemption Arcade Games
GOLD - Panning for Gold Arcade (UNIS)
SILVER - Zombie Snatcher (Toccata Gaming International)
BRONZE - Spindrome (Benchmark Games)
HONORABLE MENTION - Gold Fishin' Arcade (ICE)


Category Four: Motion Simulators Rides
GOLD - Valkyrie Interactive Motion THeater (Simuline)
SILVER - Supernova XD Cinema Motion Ride (DOF Robotics)

Congratulations to all the winners!

[Via BMI Gaming]

---
The URL for this article is:
https://www.highwaygames.comhttps://www.highwaygames.com/arcade-news/best-show-awards-bosa-2015-3281/

Copyright © 1999 - 2022, Highwaygames.com All Rights