Big One X-treme Crane Machine From Elaut in Production
This article comes from Highwaygames.com
---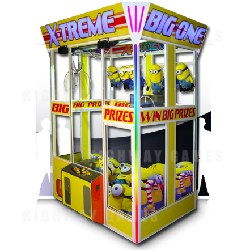 Elaut U.S.A. has begun production on its Big One X-treme plush crane machine, which stands just under 13 ft tall and has several exciting new features that differentiate it from its predecessor.

According to Elaut, the giant crane game received rave reviews from attendees at both the IAAPA Show 2015 and EAG Show 2016, largely due to exciting technology inclusions like "Claw Vision".

The game's patent pending "Claw Vision" allows players a new perspective by watching a monitor that displays the view of a claw-mounted camera, which the factory says gives them a better chance to zero in on their desired prize.

"The response at both shows has blown us away. We have been fortunate enough to have booked quite a few orders already," said Glenn Kramer of Elaut U.S.A. "It's funny, the operators who have the original Big One Crane have begun to place their orders for the new one...they think the new version is incredible. The operators that didn't take advantage of the first version are ordering the new one so they don't miss out."

Shipping for the Big On X-treme crane machine is yet to be announced.

---
The URL for this article is:
https://www.highwaygames.comhttps://www.highwaygames.com/arcade-news/big-one-xtreme-crane-machine-elaut-production-3605/

Copyright © 1999 - 2022, Highwaygames.com All Rights