Coastal Amusements Reveal New Atari Breakout Arcade Machine
This article comes from Highwaygames.com
---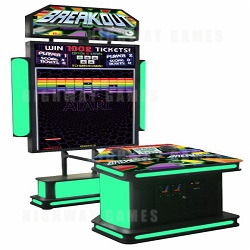 Coastal Amusement has revealed a new product for their line up at IAAPA, a new arcade machine featuring the famous Breakout game from Atari.

Breakout will debut at the show as one of the latest in a range of game offerings for Coastal's 65" video game system (also referred to as a VGS), which have loads of new features to introduce the classic games to the modern generation.

This modernised version comes in a new ticket redemption format, which will challenge players to break as many bricks as possible while keeping the ball from draining.

Coastal Amusement outlined key features of the game, "Features will include special bricks to give players a multi-ball mode, instant tickets for certain actions and all sorts of good and bad power-ups to keep the game interesting and challenge every player. The "Catch a Falling Star" feature allows players the chance to win a big bonus for even more tickets."

Other Coastal games in this 65" style will include Subway Surfers, Temple Run, Frog Around and The Balloon Game.

Breakout will be at Coastal's booth (#1324) at this year's IAAPA show, so don't miss the chance to check it out!

---
The URL for this article is:
https://www.highwaygames.comhttps://www.highwaygames.com/arcade-news/coastal-amusements-reveal-new-atari-breakout-arcade-machine-3718/

Copyright © 1999 - 2022, Highwaygames.com All Rights