Cruis'n Blast is driving sales into a new era
This article comes from Highwaygames.com
---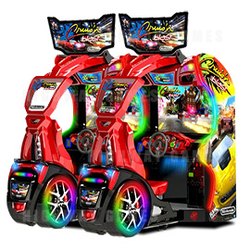 Cruis'n Blast is the latest in the legendary driving game series that debuted in the '90s with the arcade smash Cruis'n USA.

This thrilled players with its amazing 3D realism and arcade fun, and set new records for income and operator return on investment.

Followed by Cruis'n World and Cruis'n Exotica, the Cruis'n series sold more than 70,000 arcade driving machines.

"With the resurging millennial arcade scene and unprecedented player demand, the time was right for a new Cruis'n game," Eugene Jarvis, Raw Thrills president and creator of the Cruis'n series, said.

BANDAI NAMCO Amusement Europe is the exclusive distributor of Raw Thrills products throughout the European, Middle Eastern, CIS, Baltic and Turkish markets.

"Raw Thrills-Play Mechanix games not only have the 'wow' factor in the way they look, they perform on site in terms of revenue for the operators and also enjoyment for the players," James Anderson, the sales and commercial director at BANDAI NAMCO Amusement Europe, said.

"Cruis'n Blast is no exception. It has proven to be one of our best-selling titles of this season.

"The team at Raw Thrills test each title extensively to ensure it gives the maximum game play to the player and also constantly evolve the software and they have a wealth of knowledge from pervious titles that they build on."

Cruis'n Blast takes Cruis'n into the new millennium as players zoom 200 mph through the bustle of London, blast through the exotic wonders of Madagascar, celebrate Carnival in Rio, amaze to the hi tech splendour of Singapore, and drive an earth-shaking thriller through Death Valley which can be viewed on a brand new 43" LCD monitor.

Every track is packed with speed thrills, exploding scenery, and extreme special FX.

In tune with the times, players race in an immersive cockpit simulator, loaded with HD supercomputer graphics and immersive effects.

The Thrill-D Blaster sound system recreates the sound of an actual race, backed by a pumping soundtrack that is a staple of the Cruis'n experience.

---
The URL for this article is:
https://www.highwaygames.comhttps://www.highwaygames.com/arcade-news/cruisn-blast-is-driving-sales-into-a-new-era-3863/

Copyright © 1999 - 2022, Highwaygames.com All Rights