Daytona 3 available to play at end of March
This article comes from Highwaygames.com
---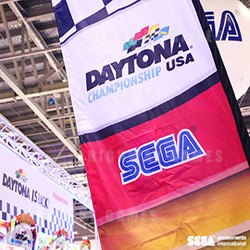 Daytona 3 will be available to play at the end of March, Sega Amusements International CEO Paul Williams has said.

In an interview with gadget website T3, Mr Williams answered the question that has been on everyone's lips since the game was first revealed at IAAPA in 2016: when will it be released?

"Daytona 3 will be out by the end of the month (March 2017), so in a very short time from now," Mr Williams told T3.
In an interview with Dr. Marco Zangirolami, Mr Williams spoke about the IAAPA launch.

"Being a professional trade show you do not usually see many people playing the games, however this time was different," Mr Williams replied when he was asked what the fan reaction to the game was like at the tradeshow held in Florida, US in November 2016.

"The game was always busy with operators from all around the world wanting to play.

"The feedback and the orders we already received I can already say it is a big success.

"Sincerely having bet on it, I knew it was a great game, that it was extremely appreciated by gamers and operators, but I did not imagine the reactions would have been so good, especially after such a long period of time elapsing from its first chapter back in 1994."

Mr Williams also spoke with Dr Zangirolami about the Daytona 3 cabinet design and game development of other Sega arcade products such as Transformers: Human Alliance.

Read the full interview on the T3 website here.



---
The URL for this article is:
https://www.highwaygames.comhttps://www.highwaygames.com/arcade-news/daytona-3-available-to-play-at-end-of-march-3849/

Copyright © 1999 - 2022, Highwaygames.com All Rights