Dolphin Star from Barron Games Ready to Ship
This article comes from Highwaygames.com
---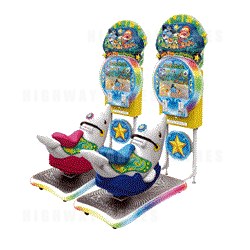 The new Dolphin Star arcade game is a fun motion kiddie ride and educational game from Barron Games, and it is now ready to ship out!

We've reported on this product over the last few months, til it finally was received at IAAPA last month to an eager crowd. The gamer received plenty of positive feedback from operators looking to engage their younger market.

The Dolphin Star arcade machine is perfect for children between the ages of 2 and 10, and features an eye-catching marquee, 19-inch LED monitor and exciting dolphin molded seats.

The idea of the game is that the children take the reins of the dolphin and pull left or right to steer it in the game, collecting points and vocabulary words along the way that increase their ride time or dispense more tickets (setting options can be changed).

The Dolphin Star is a two seated machine and includes a blue saddle and a pink saddle option; the dolphins and base pedestals of both units illuminate with LEDs.

For more information about the product or shipping, please visit www.barrongames.com.

---
The URL for this article is:
https://www.highwaygames.comhttps://www.highwaygames.com/arcade-news/dolphin-star-barron-games-ready-ship-3546/

Copyright © 1999 - 2022, Highwaygames.com All Rights