Embed's Toolkit is Brunswick Superbowl's Newest Upgrade
This article comes from Highwaygames.com
---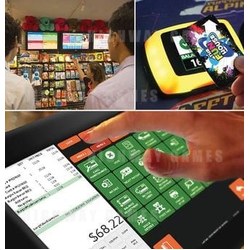 BANDAI NAMCO Management Solutions is proud to announce the successful installation of the new Embed TOOLKIT software into the Brunswick Superbowl in Derry, Northern Ireland.

Brunswick Superbowl, Derry, is an existing customer that has been using the Embed Stock Management System since 2010. The site is now expanding its redemption offer and BANDAI NAMCO Management Systems upgraded the software, as well as providing industry-leading Deltronic Ticket eaters.

"We have found the Embed stock management system to be invaluable over the past 9 years," says Seamus Doherty at Brunswick Superbowl. "It has streamlined our redemption management giving our customers a seamless experience. We have seen our redemption business grow year on year as a result. The service from BANDAI NAMCO Amusement Europe (BNAE) and Embed and the reliability of both the system and the ticket eaters from Deltronic, meant that it was an easy decision to upgrade to TOOLKIT. Thanks to the excellent service from both Embed and BANDAI NAMCO, the migration to the new system was completed quickly and efficiently."

TOOLKIT allows operators to manage all games across all locations in one easy-to-use web interface. It offers a universal games database, which is the first industry-backed and built list, ensuring assets are correctly and consistently named. Operators can access all the powerful reports that they need directly from their browser, or via the Assistant mobile app.

"Brunswick Superbowl was one of the first sites we installed Embed into and they in turn have helped promote the virtues of Embed and BNAE throughout Ireland, with their experience of using the system and the support we both offer," says Steve Short, General Manager, BANDAI NAMCO Management Solutions. "The migration work was carried out by Andy Thorne from Management Solutions with the assistance of the Embed team in Dubai, who contributed remotely, to ensure that the work had very little impact to the day to day running of the site. We were happy to support Brunswick in breaking into redemption in 2010 and are pleased that we can still support them in growing their business with the new software update now."

Rosa Tahmeseb, Managing Director for Embed EMEA commented, "Toolkit is our new software solution and all of our partners and customers who have taken the initiative to make the move to Toolkit have reported how Toolkit has helped streamline their businesses. In addition to this, they are all very happy with the new features available and the intuitive nature of the system."


---
The URL for this article is:
https://www.highwaygames.comhttps://www.highwaygames.com/arcade-news/embed-s-toolkit-is-brunswick-superbowl-s-newest-upgrade-4072/

Copyright © 1999 - 2021, Highwaygames.com All Rights