Final update for Mario Kart Arcade GP DX to be released by Bandai Namco
This article comes from Highwaygames.com
---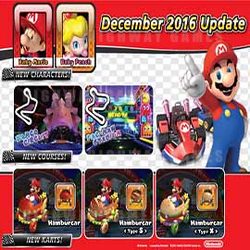 Bandai Namco has released details about its final update for Mario Kart Arcade GP DX.

In an email to its members on December 13, Bandai Namco Amusement America Inc said the final update will be available from 9am (JST) on December 21, 2016.

The updates include:

• This game can now be operated without an internet connection. All future sales of Mario Kart Arcade GP DX units will not require an internet connection.
• Two new courses, Pac-Man Stadium and Namco Circuit, have been added.
• Two new characters, Baby Mario and Baby Peach, have been added.
• A new kart, the Hamburcar, has been added to the roulette.
• Team Battle Mode can no longer be selected. (It has been removed from the game modes.)
• The minimum game price has been changed from 0 to 1. (This setting conforms to the instruction manual. Free Play is selectable.)
• In Test Mode, the Drive Unit's current time can be manually changed with the newly added "CLOCK SETTING" function.
• Other in-game performance improvements have also been made.

Mario Kart Arcade GP DX is the latest game in the extremely popular racing series featuring new courses, new game modes, new karts, new features and a rainbow LED lit cabinet featuring a 42" HD monitor.



Mario Kart Arcade GP DX is the third Mario Kart Arcade GP title, which was released in Japanese arcade in 2013 and in North American and European arcades in 2014.

The game features 10 redesigned courses, as well as features introduced in Mario Kart 7 such as the gliders and underwater racing.

The playable characters in Mario Kart Arcade GP DX are Mario, Luigi, Peach, Rosalina, Toad, Yoshi, Bowser, Dry Bowser, Wario, Waluigi, Bowser Jr., Donkey Kong, Baby Mario, Baby Peach, Metal Mario, and Gold Mario from the Mario series, Pac-Man (using the design from Pac-Man and the Ghostly Adventures) from the Pac-Man series, and Don from the Taiko no Tatsujin series.

The racing commentary returns in this game and this time, it is voiced by Rica Matsumoto, who also voices Ash Ketchum in the Japanese version of the Pokémon anime.



---
The URL for this article is:
https://www.highwaygames.comhttps://www.highwaygames.com/arcade-news/final-update-for-mario-kart-arcade-gp-dx-to-be-released-by-bandai-namco-3782/

Copyright © 1999 - 2022, Highwaygames.com All Rights