ICE Transformed Angry Birds Into Arcade Redemption Machine
This article comes from Highwaygames.com
---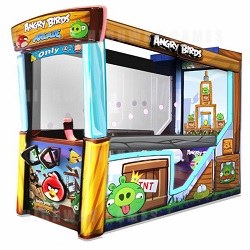 Angry Birds has been one of the most popular mobile game apps ever, played by millions of users of all ages on their phones and tablets, and now it has been transformed into a full-fledged redemption arcade machine by ICE.

The Angry Birds app was created by Rovio Entertainment Ltd. and captured the imagination of millions users across the globe. It is the basic and appealing elements of Angry Birds that the designers at ICE have taken, built upon, and have engineered a whole new coin-op game that translates its classic offense premise and made it into a gorgeous arcade centerpiece.

Dave & Buster's, which consulted with ICE as the game wound its way from the design table to the shipping dock, will have it inside their 77 US locations on an exclusive basis from July 27 until Labor Day, after which the game will ship to the general coin-op marketplace.

Licensed by ICE from Rovio, the Angry Birds coin-op software was produced for them by PlayMechanix (Raw Thrills' sister company) and is being built at ICE's Clarence, N.Y., plant in suburban Buffalo.

As anyone with children knows, the app's game play is all about angry birds launching themselves at the bad pigs that have stolen their eggs. This is carried out through the ICE game with a pinball styled plunger that players use to shoot 3" foam balls eight feet through the air at a 55" target touchscreen monitor where the pigs' little houses are depicted.

"This machine incorporates the skill and charm of the mobile app" stated ICE Sales VP Joe Coppola, "but there's so much more in terms of physical play that it's pretty much a whole new game, not just a straight transfer from app to coin-op cabinet."

Dave & Buster's Sr. VP for Entertainment & Game Strategy Kevin Bachus, said they asked for and got the exclusive period so they can maximize the tie-in with a new TV commercial that includes the new game. "We're trying to coax people to get up and get out to a Dave & Busters' to check it all out. Scarcity of anything is something people respond to. This is not about hurting our competition but helping to boost our customer traffic," he stated.

---
The URL for this article is:
https://www.highwaygames.comhttps://www.highwaygames.com/arcade-news/ice-transformed-angry-birds-into-arcade-redemption-machine-3403/

Copyright © 1999 - 2022, Highwaygames.com All Rights