New Arcooda video series keeping you up to date
This article comes from Highwaygames.com
---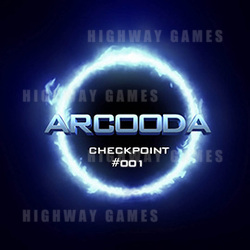 From today, Arcooda will start an all new video series which will provide its gaming community and the wider public with up-to-date company news.

The regular "checkpoint" videos will feature details and updates on Arcooda projects currently under development.

The company say they will also use the videos to call for the public's opinions and input about their developments.

"There is a lot of new development at Arcooda, and often these developments are difficult to explain just through text," Arcooda CEO Steve Josifovski said.

"We have created this new video series to share with our distributors and customers many of the projects we are working on, machines we are soon to release, and also to ask for your feedback.

"This video series is a good way to contribute and have your say on what features you would like to see added, cabinet colours, or what further collaborations you would like us to have with other leading software and hardware factories.

"We hope you can be part of our community as the machines we are building are not designed for "one off" game style purchases, but more, where the cabinet can be modified over the years for long term use."

The company said they will release updated checkpoint videos constantly through their Arcooda YouTube channel.

The video will contain updates on the Arcooda Video Pinball, a new game and machine, plus something extra it has been working on – an anti-cheating system.

The first video is live on the Arcooda YouTube channel from today.



---
The URL for this article is:
https://www.highwaygames.comhttps://www.highwaygames.com/arcade-news/new-arcooda-video-series-keeping-you-up-to-date-3868/

Copyright © 1999 - 2021, Highwaygames.com All Rights