Northern Leisure Kiddy Rides Working With Nickelodeon
This article comes from Highwaygames.com
---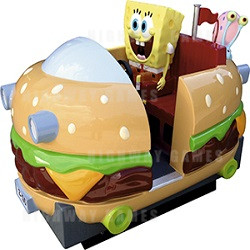 Northern Leisure's Kiddy Rides is excited to be working with children's entertainment and TV giant Nickelodeon on a range of rides based on the brand's successful portfolio, after acquiring rights to a number of brands.

This is new territory for Nickelodeon and the mark the first time the company has worked with a partner within the kiddie ride sector.

"We have acquired the rights to produce a range of rides from the Nickelodeon brand, including SpongeBob, Ninja Turtles, Paw Patrol and Dora," said Northern Leisure's group production manager, Gareth Jones.

The company is planning to release the rides in stages over the next few years, with the first of what will be many rides, SpongeBob SquarePants, now in production. As with all of Northern Leisure's rides, it has been designed, developed and produced in the UK in a high-quality gel coat.

The new ride features the SpongeBob character and his pet snail, Gary. Children can ride alongside the pair in their Krabby Patty Wagon, which includes a steering wheel, pushbutton sound effects and a small LCD display incorporated into the dashboard area that displays sing-a-long lyrics to the show's theme tune.

Northern Leisure will be exhibiting at next month's Autumn Coin-op Show being held at Stamford Bridge, London.

---
The URL for this article is:
https://www.highwaygames.comhttps://www.highwaygames.com/arcade-news/northern-leisure-kiddy-rides-working-nickelodeon-3485/

Copyright © 1999 - 2022, Highwaygames.com All Rights