Sega to show 13 new games at EAG 2017
This article comes from Highwaygames.com
---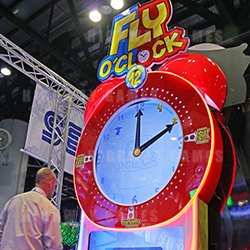 Sega is set to show 13 new and nine established hit games at the EAG International 2017 expo.

The company said it will show products in every major category, including the highly anticipated Daytona 3: Championship USA that was launched at 2016 IAAPA Attractions Expo.

Sega will also show its new carnival-themed game, Hoopla, and video redemption game Fly O'Clock.

"For EAG 2017 we have a brand new stand layout, designed to be inviting and welcoming to our guests," Justin Burke from Sega said.

"It will be more of an experience than 'just another booth'; we've simplified the layout to make navigating it easier, featuring special areas for Daytona, hit skill wall games, video, novelty and dedicated features for Sega Total Solutions and Sega Prize International.

"We want people to enjoy the journey through it".

Sega said it had a fantastic response to the global launch of Daytona 3 at 2016 IAAPA.

At EAG, Sega will have eight Daytona 3 cabinets set up allowing visitors to enjoy all the new features, tracks, cars, as well as the original classic track that has been remastered for the 21st century.

A solid feature of the Sega EAG booth in past years has been its popular Skill Wall.

This year will be no exception with a new addition from ICE in the form or Bean Bag Toss. This next carnival game in ICE's series follows games such as Milk Jug Toss and Down the Clown.

Sega will also be launching its own carnival themed game Hoopla. Designed with the family player in mind, it strikes a chord with childhood memories of fun at the fair. This simple game sees players get as many hoops on pegs in a set time.

More details on Hoopla will be released closer to EAG 2017.

A new video redemption game will be launched at EAG 2017 – Fly O'clock.



This compelling two player video redemption game has unique one-touch game mechanics and features a 55" vertical monitor.

"We are on fire right now with our product range," Mr Burke said.

"With continued business confidence in the UK and abroad on the back of a great season this year the desire to invest in quality product has increased and we know we have the best product to cater for that.

"The impressive success at EAG in the past has earned it a reputation as the 'must be at' trade show event of the year, for both national and international coin-op amusements industry."

The EAG International expo takes place between January 17-19, 2017 at the ExCel London Exhibition Center in London, UK.

Sega will be on stand 550, 550A, 550B and 550C.



---
The URL for this article is:
https://www.highwaygames.comhttps://www.highwaygames.com/arcade-news/sega-to-show-13-new-games-at-eag-2017-3785/

Copyright © 1999 - 2021, Highwaygames.com All Rights