The Black Knight Returns! Stern Announces Black Knight: Sword of Rage Pinball Machine
This article comes from Highwaygames.com
---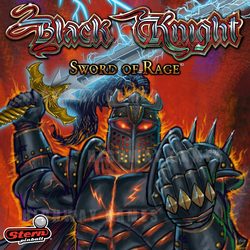 The iconic Black Knight returns! Stern has announced the Black Knight: Sword of Rage Pinball Machine, available in pro, premium and limited edition models. Players will get the chance to explore, discover and unlock the secrets of the Black Knight universe. In their quest against the Black Knight, players will uncover foes, demons, riches and secrets while navigating the dark, mysterious and twisted realms.

"There's nothing more iconic in the pinball universe than the Black Knight character," said Gary Stern, Chairman and CEO of Stern Pinball, Inc. "Created by game designer Steve "The King" Ritchie, the Black Knight has always taunted and antagonized players to battle him and now, for the first time, players will be able to fight back."

Black Knight: Sword of Rage's Pro, Premium and Limited Edition models will feature stunning hand-drawn art, the distinct magna-save feature, a legacy sound package composed and performed by Scott Ian of Anthrax with Brendan Small, and custom speech by Ed Robertson of Barenaked Ladies.



A custom sculpted, interactive and multifunctional Black Knight bash toy will challenge players with its bi-directional motorised flail and sliding coil-dirven shield that will bash and block their shots. The interactive Black Knight also features a glowing RGB helmet with individually controllable expressive lighting to interact with and taunt players through custom speech.





The Premium and Limited Edition Models also feature a transparent upper playfield with a distinct 3-ball lock mechanism to give players to ability to achieve a 6-ball multiball.





The Limited Edition - only 600 units globally - will include additional features such as an exclusive mirrored backglass, anti-reflection pinball glass, shaker motor, exclusive custom art blades, a custom autographed bottom arch, a sequentially numbered plaque, and an exclusive battle art custom themed cabinet artwork.







---
The URL for this article is:
https://www.highwaygames.comhttps://www.highwaygames.com/arcade-news/the-black-knight-returns-stern-announces-black-knight-sword-of-rage-pinball-machine-4074/

Copyright © 1999 - 2022, Highwaygames.com All Rights